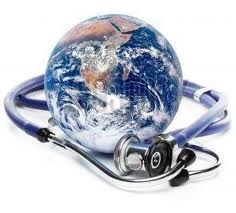 Health Informatics: Relevance to Global Health and eHealth
Task 2: HI201 Concept Map
By Alvina Pauline D. Santiago, MD
I thought I got away with the first week's blog assignment. I didn't think the next blog would come any time soon. I was mistaken, it turns out we needed to blog about every week's driving question! And tweet #MSMHI, or was it #HI201, and post on #PMIS page.
 There was only one thing I was sure of when tasked to make a mind map… the central topic HEALTH INFORMATICS, and that it needed to be connected to Global Health, as well as eHealth. There goes my mind map!
 It sounded simple enough… like a mother (Health Informatics) holding 2 kids (global health) and (eHealth)!  But I was so sure I couldn't end there.  This picture, didn't answer relevance. I wasn't sure what to do! I went back to the definitions found in the articles we were assigned (and a little bit more). Trying to look for clues. Here is what I think I found.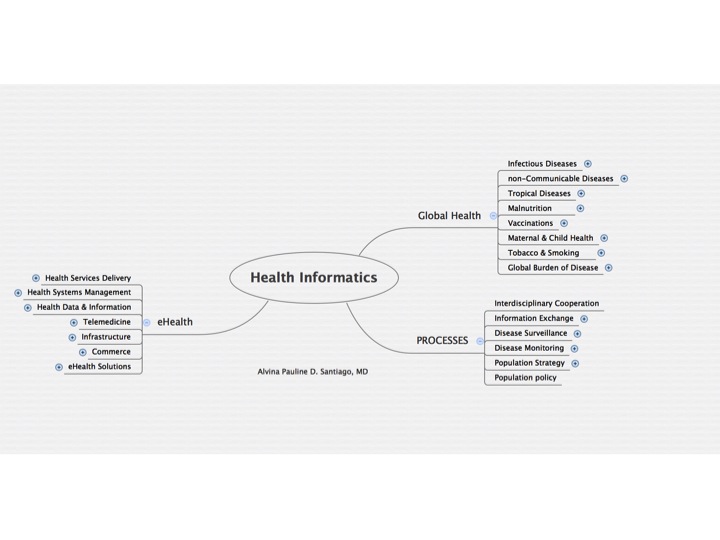 Health informatics encompasses all that eHealth wants to achieve.  Sometimes you would think they were synonyms, aren't they?  "The World Health Organisation defines eHealth as the use of information and communication technologies for health."  Whatever it is…database, health education, patient appointments, billing, pharmacy prescription, monitoring drug interaction,…. it is not difficult to imagine how Health Informatics plays a significant role in integrating, processing, and evaluating all these tasks.
Health services delivery should be efficient and effective, providing quality universal healthcare, equality of access between the remote communities and urbanised cities.  This in turn provides good health outcomes.  Health Services Management provides avenues for surveillance of diseases, injuries, disasters, and extreme emergencies.    Necessarily there is a registry for all of these.  It also covers analysis of these data; recommendations for disease (injury, disaster, or emergency) containment, eradication and prevention; as well as policies that emerge on the basis of data thus collected.
Health Data & Information.  Through secure electronic health or medical records (eHR or eMR), health informatics can provide avenues for research, thereby improving education.  Knowledge is improved from data culled from these sources; clinical practice guidelines can be crafted. To ensure that all data is interpreted together, eMRs should have interoperability, read by different health care systems.  Access of both the patient and the health care professional ensures a more thorough clinical data. Privacy of information should however be protected.  Health Education can come in the form of patient or physician blogs, which may or may not allow for interaction (ask your MD or leave a reply).  The potential for sharing information thus obtained via social media is limitless. Reports of adverse drug reactions and drug interactions can be better collated (thus influencing drug dispensing policy and monitoring).  Medical training is also improved by webinars, virtual environments, and open learning via the internet.  Patients can make informed decisions earlier, and usually at the point of care.  Health education can also provide innovations and solutions both for clinical and research applications that have wider implications for overall health care delivery.  As for the Health Care Provider, with a wealth of information just at his fingertips, he can provide better for patients at his point of care.  He will have a better total picture of what happened to the patient.  Co-morbidities are not neglected.  More rational requests for diagnostics, with less repetitions can be followed.  Drug prescriptions are better monitored avoiding drug interactions and adverse drug reactions.  Referral systems for institutions, other health care providers, local health centre units, and specialists can also be integrated by Health Informatics.  Reporting and monitoring of outcomes for patients and diseases become readily accessible and doable.  Finally, licensing and accreditation of the health care provider is also facilitated by informatics.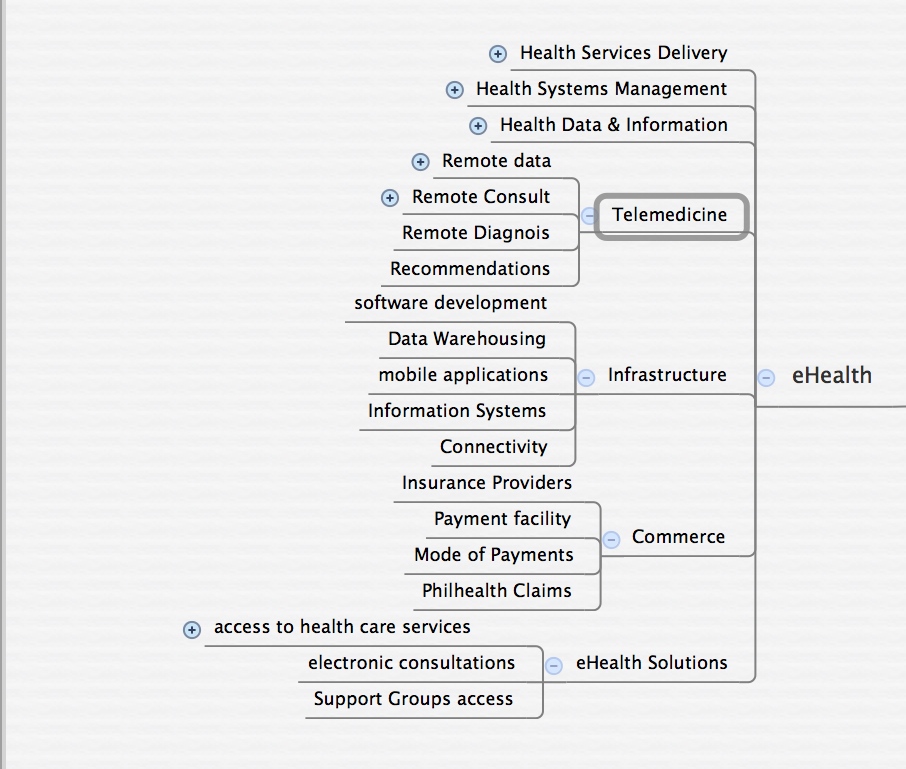 Telemedicine allows for remote data collection and workup where images or results can be transmitted to a remote site.  Access to specialists who are otherwise unable to go to patient or data location is made possible by telemedicine. Remote diagnosis and analysis is made and subsequent recommendations are given.  This shortens the lost hours due to traveling and queueing, and identifies the patients that need to make the trip, directed towards a specific facility providing care.  Of course, health informatics provides for infrastructure for software development, data warehousing, mobile applications and information systems.  The problem of connectivity still plagues the system.  eCommerce such as claims processing and analysis by insurance companies and even our own Philippine Health Insurance Corporation use health informatics.  Credit card payments, direct deposits to account, online payment transactions are some of the examples by which payments are processed through informatics.  eHealth Solutions such as access to support groups, health care services and even electronic consultations for non-emergencies are all part of the bigger picture.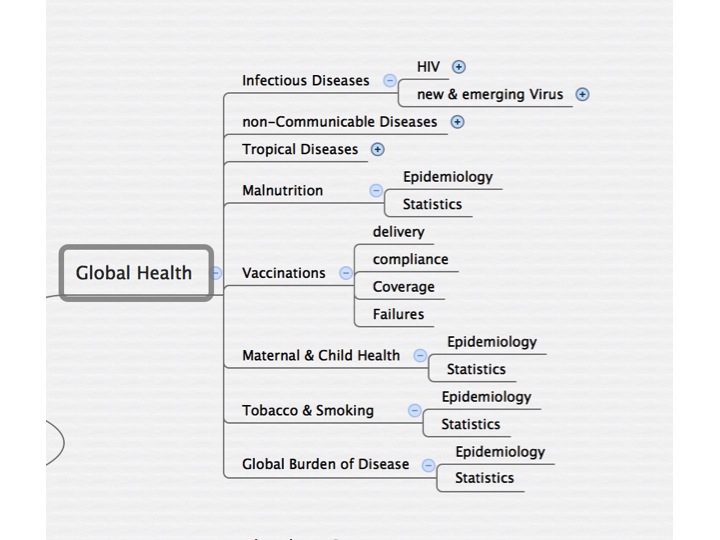 Global health was a little bit more difficult for me. International health? Third world diseases? Infectious diseases? Neoplasms? What is it that made the world unhealthy? To be relevant, what is it the Health Informatics can do to reverse the trend? To improve a population's health (thereby improving individual patient care)?  The realm of global health include infectious diseases, tropical diseases, non-communicable diseases, maternal and child health, vaccinations, tobacco and smoking, and even global burden of disease in terms of lost hours and disabilities.  (There are articles that even talked about water and sanitation, which I could not get myself involved in despite the realisation that it does indeed affect global health, water-borne diseases notwithstanding).  Epidemiology and statistics are made easier with automation provided by health informatics.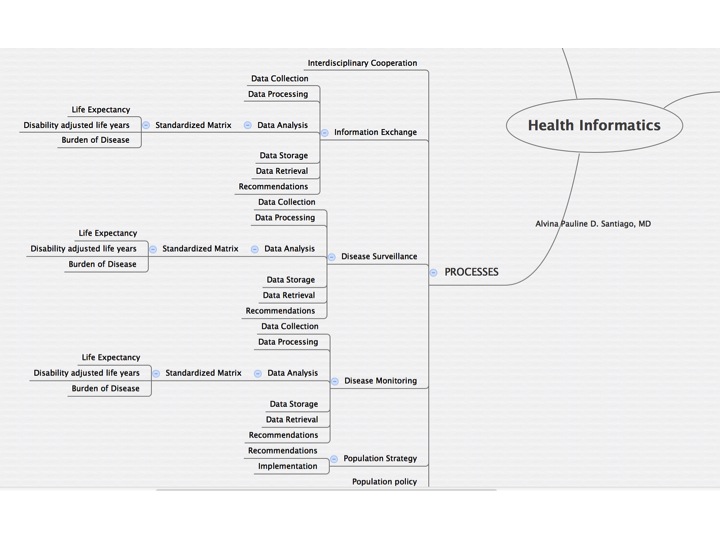 In any global health, ehealth, or health informatics undertaking, processes involved include interdisciplinary cooperation, information exchange, disease surveillance, disease monitoring that will dictate population strategy and policy.  The World Health Organization had provided a standardised matrix to analyse data, specifically for computing life expectancy, disability adjusted life years and burden of disease.
Whew!  I am not sure the reader is still with me.  I may have gotten lost somewhere myself.  One thing is sure, global health, eHealth, and health informatics are interrelated, perhaps even co-relevant in their own right. 
References:
1.  Philippine eHealth Strategic Framework and Plan 2013-2017.  Department of Health, Department of Science and Technology, Philippines, September 11, 2013.  
2.  Murray CJ, Lopez AD.  Measuring the Global Burden of Disease.  New England J of Medicine 369:5:448-457.
3.  Koplan J, Bond TC, Merson MH, et al.  Towards a common definition of global health.  LANCET 2009; 373: 1993-1995.
4.  Oh H, Rizo C, Enkin M, et al.  What is eHealth (3): A systematic review of published definitions.  J Med Internet Res 2005; 7 (1): e1.  http://www.ncbi.nlm.nih.gov/pmc/articles/PMC1550636/