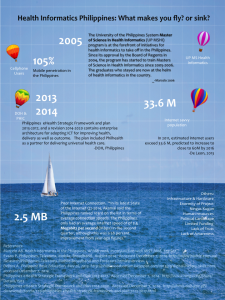 Week 3 Task:  What are the factors affecting advancement of the field of health informatics in the Philippines.  This is the blog explaining the infographic for this task. #MSHI #HI201 #healthinformaticsphilippines
HEALTH INFORMATICS PHILIPPINES
What Makes You Fly?

2005:  The University of the Philippines System Master of Science in Health Informatics (UP MSHI) program is at the forefront of inititiatives for Health Informatics to take off in the Philippines.  Since its approval by the Board of Regents in 2004, the program started to train Masters of Science in Health Informatics since the school year 2005-2006. The graduates who stayed are now at the helm of Health Informatics in the country.
2013 & 2014.  The Philippines eHealth Strategic Framework and Plan 2013-2017 and 2014-2020 Edition, contains the framework that the Department of Health leadership under Secretary Ona and other key decision makers have adopted, a favourable stance towards Internet Technology (IT) governance. We hope these initiatives will continue on through the next administration.  The building of infrastructure, and supportive business and regulatory environments favour the rising of health informatics.  The DOH understands that implementation of its project: Universal Health Care requires better health information systems.
The Philippine Health Insurance Corporation (PHILHEALTH) is also adopting internet technology to improve its services.  I saw a glimpse of the a proposed health-sector wide enterprise architecture  suggesting the future looks bright and sunny.
(from Dr. Alvin Marcelo's+ "" page).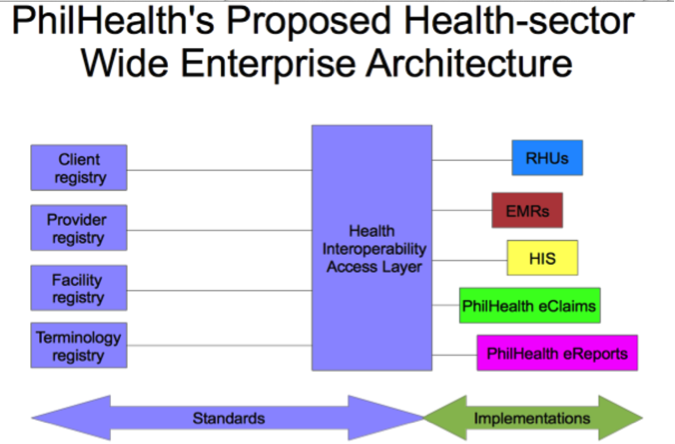 105% Huge cellphone subscriber base.  Known as the texting capital of the world, Philippines now has been estimated to exceed 105 million cellphone users. These users now access Facebook, twitter and google among others. Certainly this resource can only pump hot air into an already flying balloon.
33.3M Internet-savvy population.  In 2011, the number of internet users was estimated to reach 33.3M (or 33%), and expected to reach 59M (or 59%) by 2016.  This tilts the balance in favour of health informatics and its applications.
What Makes You Sink?
Infrastructure and hardware
slow internet connection
lack of human resources
enormity of project
limited funding
lack of awareness
lack of trust
ningas kugon
political landscape
Infrastructure and hardware.  Not only is our internet slow, our service providers contend that since heavy users comprise only  %, we now also have to contend with data capping.  According to rappler.com, data capping is Data caps, also called bandwidth or broadband capping, is a method by which Internet service providers (ISPs), network service providers, and telecommunications groups manage or control their data. This is done through a process known as throttling, where the amount of data sent and received on a given communications channel – or bandwidth – is lessened.
Slow Internet Connection.  The average internet connection speed in the Philippines in only 3.9 Mbps, compared to Singapore's 16.9 Mbps.  (Brunei 7.9 Mbps, Thailand 4.32 Mbps) [Ookla data in abs-cbn.com news report].  Our broadband speed ranks 155th in the world.  In addition, there are allegations, that Philippine Long Distance Telephone Company, deliberately keeps internet traffic slow by not providing a unified internet exchange (IX), instead, internet service providers are routed through a different backbone in Hongkong.
"In its latest State of the Internet Q2-2014, Akamai said the Philippines ranked 103rd on the list in terms of average connection speeds. The Philippines only had an average Internet speed of of 2.5 Megabits per second (Mbps) in the second quarter, although this was a 58 percent improvement from year-ago figures."
Lack of Human Resources. Despite the steady increase in the number of health informatics professionals, there remains a palpable lack of personnel to undertake the daunting task of making health informatics in the Philippines soar to greater heights and implementation.
Enormity of Project.  The Philippine eHealth Strategic Framework and Plan for 2013-2017 as crafted by the Department of Health and the Department of Science and Technology proposed a budget of close to PhP 297 million.  Where the money will come from is another obstacle, as the government's Disbursement Acceleration Plan is close to being shot down by the nation's own Supreme Court for being unconstitutional.  Necessarily too, because of the large scale, the project will outlive leadership terms.  For the project to take off, it should be carried out on its own merits, regardless of personalities.
Lack of funding.  Donor funds, international sources from entities like the World Health Organization need to augment local fund resources.  Often, these funding have a finite timeframe for implementation and evaluation, and may be too short for the health informatics initiatives in the Philippines to fully take off.
Lack of awareness.  Despite the huge cellphone users base, many have not optimized eHealth access by just typing the correct search terms.  The populace should transcend the use of social media to benefit health care access and delivery.
Lack of trust.  The wealth of data that can be exchanged over the "information superhighway" should have the patient's privacy in mind.  The lack of regulatory bodies and laws, and perhaps more the lack of police power make people distrust this initiative.  Proof of its confidentiality and its utility need to be presented before full trust can even be achieved.   Laggards will always also claim distrust of the system and will refuse to adopt something new until it is perhaps the bandwagon.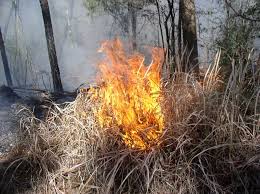 from Rxfire.net
Ningas kugon.  Known as a Filipino "bad" habit, it compares the drive to finish a task to the burning of the cogon grass, that is, the propensity of the fire rage in the beginning only to stop before it is completed.  We would like the hot air from this fire, from this desire to pump the hot air needed for health informatics to fly.
Political Landscape.  It is said that unfinished projects will not be touched by the next leader voted to power.  The current leadership is supposed to end terms in 2016.  Many of these project will exceed implementation of the date they step down from office.  The country is also peppered with allegations of red tape and corruption, so that even meaningful projects do not gain ground if one did not have the right person behind it to push it forward.
References:
Marcelo AB. Health informatics in the Philippines, APAMI 2006, in conjunction with MIST 2006, S25-S27.
De Dios A. Philippine Basic Education, May 26, 2013. http://philbasiceducation.blogspot.com/2013/05/digital-literacy-skills.html, accessed December 7, 2014
Philippines eHealth Strategic Framework and Plan 2013-2017, September 2013.  Accessed December 7, 2014.  http://www.doh.gov.ph/sites/default/files/Philippines_eHealthStrateg icFrameworkPlan_February02_2014_Release02.pdf
Philippines eHealth Strategic Framework and Plan 2014-2020.  Accessed December 7, 2014.  http://uhmis.doh.gov.ph/downloads/forms/229-philippines-ehealth-strategic-framework-and-plan-2013-2017.html
Marcelo A, google+ page, About
Philhealth improves business processes as it gears for 20th century computing. http://www.philhealth.gov.ph/news/2012/ea_business_process.php
Marcelo AB. Health informatics in the Philippines, APAMI 2006, in conjunction with MIST 2006, S25-S27.
Barreiro Jr., V. Average Philippine Internet Speed 155th in the world. May 2, 2014.  http://www.rappler.com/technology/news/57037-average-philippine-internet-speed
NTC Summons Globe on Data Caps, Eyes Fair Use Rules, Feb 2, 2014.  http://www.rappler.com/business/industries/215-tech-biz/49979-ntc-globe-internet-data-caps
How PLDT deliberately keeps local internet traffic slow and expensive in the Philippines.  http://www.reddit.com/r/Philippines/comments/2aurzq/how_pldt_deliberately_keeps_local_internet
PH has 4th fastest internet speed in ASEAN study by abscbn news.  http://www.abs-cbnnews.com/business/05/28/14/ph-has-4th-fastest-internet-speed-asean-study
Evans P.  Philippines – Telecoms, Mobile, Broadband and Forecasts – See more at: http://www.budde.com.au/Research/Philippines-Telecoms-Mobile-Broadband-and-Forecasts.html
ABS-CBN news.  Philippines still has one of slowest internet speeds in Asia. http://www.abs-cbnnews.com/business/10/02/14/philippines-still-has-one-slowest-internet-speeds-asia.